Arsenal have agreed a £32m deal for Manchester City's Oleksandr Zinchenko; 25-year-old has won four Premier League titles but made just 15 top-flight appearances last season; Zinchenko can play at left-back and in central midfield
It was an afternoon that nearly saw Manchester City's season fall apart, but an unlikely hero stepped up.
City were 1-0 down to Aston Villa at half-time on the final day of last season. Liverpool would go on to beat Wolves at Anfield so Pep Guardiola needed some inspiration or the title would fall into Jurgen Klopp's hands.
During the break, Guardiola turned to his bench. Raheem Sterling was there, and so too Ilkay Gundogan and Jack Grealish. But it was Oleksandr Zinchenko who was picked, coming on for makeshift center-back Fernandinho in a reshuffle of City's defense.
The build-up and shape of the team needed to change and Zinchenko was the man to help. The Ukraine international went to left-back and dictated the play, making 13 carries in the second half and setting up Rodri for City's equalizer to make it 2-2. City, who suddenly looked more fluid, went on to win the game – and the title.
Sterling and Gundogan would join Zinchenko off the bench and make more noticeable impacts in the final third, reducing the latter to unsung hero status. As that looks like it could be his last match in a City shirt, it may just be a fitting end for Zinchenko, who rarely stood in the Etihad Stadium limelight.
Arsenal are set to bid for the Ukraine international – and given how smoothly the pursuit of Gabriel Jesus went – Zinchenko could well be granted his move to north London. Versatile, technically gifted and reliable are words associated with the 25-year-old at Manchester City, and here's why…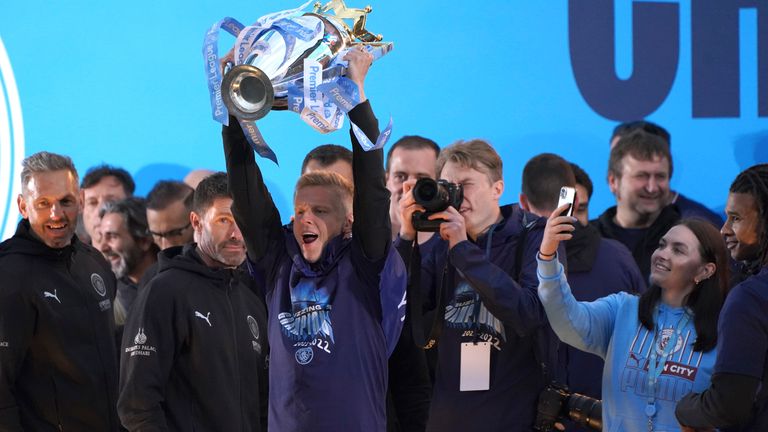 Where he fits in at Arsenal
Mikel Arteta has been looking at additions at left-back and central midfield in this summer transfer window. The Gunners wanted Ajax's Lisandro Martinez, who has experience in playing in both positions as well as center-half, but he has now agreed on a deal to sign for Manchester United. Leicester City's Youri Tielemans has also been looked at but that interest has cooled in recent weeks.