(CNN)President Joe Biden is confronting a series of distinct but interlocking global crises and hotspots with US foes lining up to test the mettle of an under-pressure leader and their own sense that the United States is a retreating global power.
Biden made the kind of fateful decision on Monday that might be more at home in the tense 1970s, putting up to 8,500 troops on alert to rush to Eastern Europe to counter the Kremlin's move to force the US away from its Western flank. But his trial of nerves with Russian President Vladimir Putin, who is holding Ukraine hostage in a bid to reverse the West's expansion after the Cold War, is far from his only global headache.
On the other side of the globe, a strategic ballet of military might is playing out as the US and China manoeuvre armadas and warplanes amid tensions over Taiwan, and other disputed territories, in a long-term duel for dominance in the Asia-Pacific region. While the prospect of a Russian invasion of Ukraine is fixating the world right now, a future Chinese strike against the self-governing democratic island is the more likely trigger for a disastrous superpower conflict.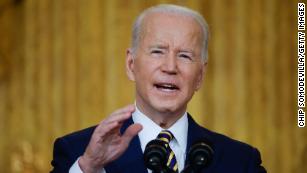 Then there is the Middle East, from which America has been trying to extricate itself for years. US forces at a base in Abu Dhabi leapt into action early Monday, using Patriot missiles to shoot down several missiles flung at the Gulf emirate by Iranian-backed Houthi rebels in Yemen. The emergency was a reminder that despite some hopes of renewed nuclear talks with Iran, the Islamic Republic's regional power plays are a grave risk to US personnel. And the vicious war in Yemen, prosecuted by Washington ally Saudi Arabia with terrible civilian consequences, endangers the US by association.
And if Washington was tempted to forget the frightening prospect of a nuclear North Korea, its leader Kim Jong Un has other ideas. One of a string of recent missile tests by Pyongyang triggered extraordinary ground stops at some US West Coast airports, which underscored the nightmare scenario for any US President that the extreme hermit state could have the US mainland in its sights.
Read more: https://edition.cnn.com/2022/01/25/politics/joe-biden-ukraine-russia-china-iran/