UN envoy says a 'bloodbath is imminent' in Myanmar
From a fenced-off compound close to the Myanmar border in northern Thailand, a rebel leader offers a bleak view of Myanmar's future, as the country is cleaved apart by a military coup.
The possibility of a deepening civil war in Myanmar is "high," Gen. Yawd Serk said from his administrative base in Chiang Mai province.
"The world has changed. I see people in the cities won't give up. And I see (coup leader) Min Aung Hlaing won't give up. I think there is the possibility that civil war might happen."Yawd Serk is an old hand at confronting military rulers. He is chairman of the ethnic minority political organization Restoration Council of Shan State (RCSS) and founder of its armed wing, the Shan State Army (SSA), which controls large pockets of land in Myanmar's east.
He is one of more than two dozen ethnic armed groups that have been fighting against the Myanmar military — known as the Tatmadaw — and each other in the country's borderlands for greater rights and autonomy, on and off for 70 years.
Since the military seized power on February 1, deposing the elected government of Aung San Suu Kyi, many of these rebel groups — including the RCSS — have expressed support for non-violent nationwide protests against junta rule and condemned the indiscriminate brutality and deadly use of force inflicted on Burmese civilians by junta-controlled soldiers and police.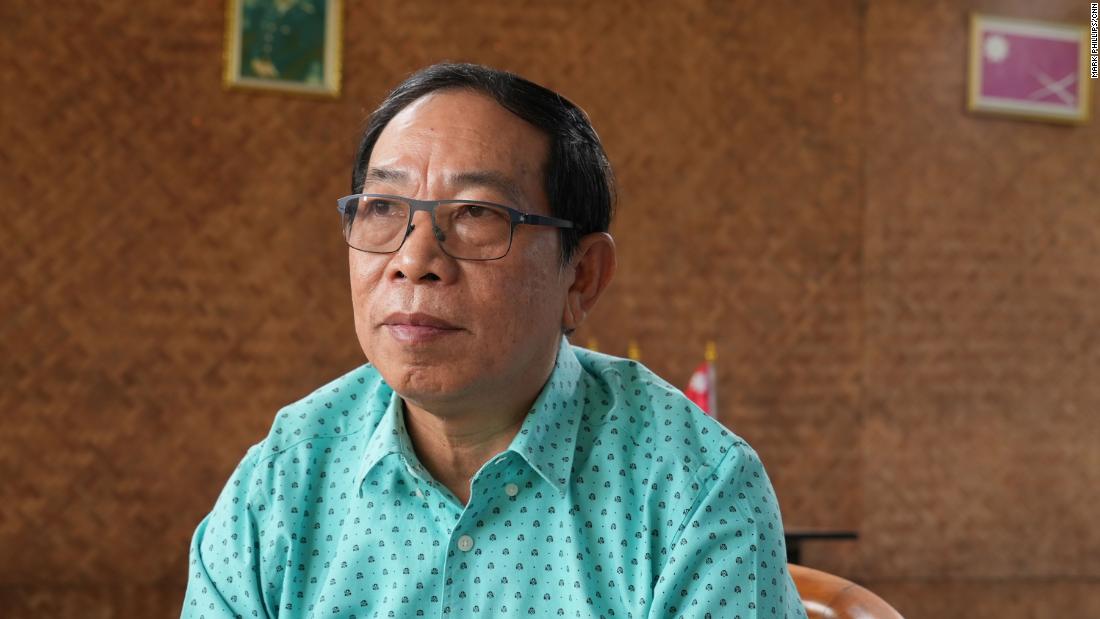 Myanmar's Shan State Army Commander, Yawd Serk on March 27 in Chiang Mai, Thailand.But as security forces continue their deadly campaign, there are signs the country is reaching a turning point where rebel groups could engage in renewed conflict, while some in the protest movement start to push for armed resistance in a bid to defend themselves.
A senior rebel leader and several protesters, whom CNN is not identifying for security reasons, say a small, but growing number of pro-democracy activists are heading into the jungles where they are receiving combat training from ethnic militias.
There are also increasing calls from the urban centers for the ethnic rebel groups to do more to protect people from military violence.
A protest group formed by some of the myriad ethnic minorities in the country recently called on 16 ethnic armed organizations to "urgently" protect the lives of the people.
And last Tuesday, three rebel groups in the north of the country, which call themselves the Three Brotherhood Alliance, said if the Myanmar military does not stop killing civilians, "we will join the spring revolution with all the ethnicities for self-defense actions."If the military "continues to shoot and kill people, it means the junta has simply transformed themselves into terrorists," Yawd Serk said. "We won't just sit still, we will find every means to protect the people."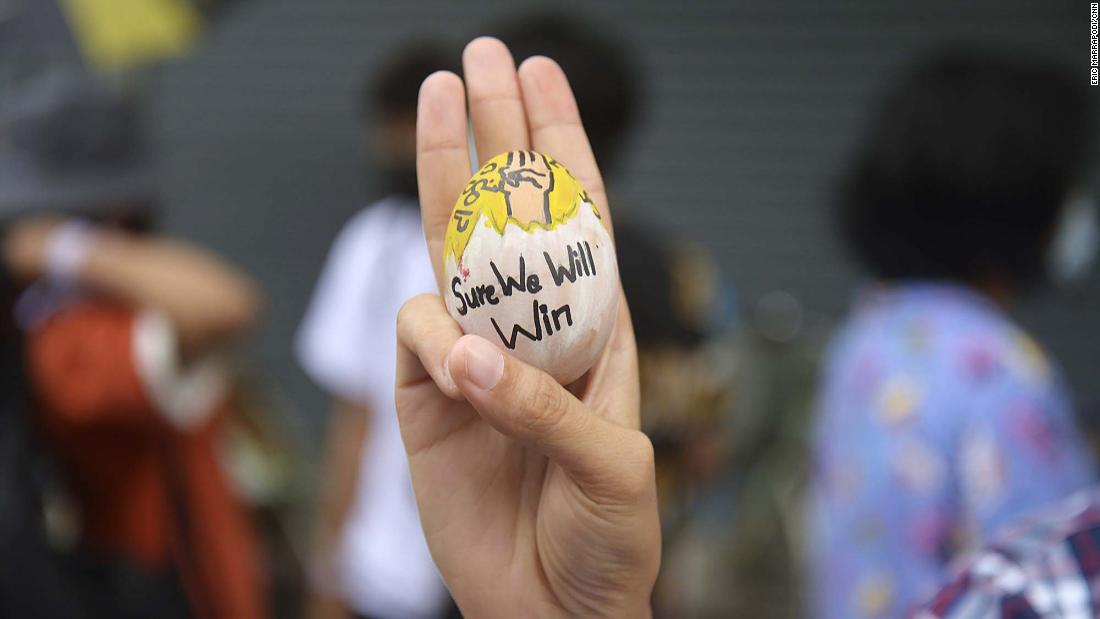 Photos: Unrest in Myanmar anti-coup protester raises a decorated Easter egg along with the three-fingered salute of resistance during a demonstration in Yangon, Myanmar, on Sunday, April 4.Hide Caption1 of 102
Photos: Unrest in MyanmarProtesters hold homemade pipe air guns during a demonstration in Yangon on Saturday, April 3.Hide Caption2 of 102
Myanmar's military junta has repeatedly blamed the violence on protesters and said security forces were using "minimum force." Military spokesman Major General Zaw Min Tun said during an interview that junta forces cracked down because "the crowd is blocking with sandbags, shooting with handmade guns, throwing with fire, throwing with Molotov and the security forces have to use the weapons for the riot."He also said the junta "will hold a free and fair election after the state of emergency," which is in place for one year.
Airstrikes and refugees
The Tatmadaw is a highly trained fighting force that ruled the country for more than half a century through brutality and fear, turning Myanmar into a poverty-stricken pariah nation.
Its sustained conflict with ethnic minorities has displaced hundreds of thousands of people, and rights groups have long linked soldiers to atrocities and human rights abuses, such as rape, torture, and other war crimes. Min Aung Hlaing oversaw the campaign of killing and arson waged against the Rohingya ethnic minority population in the country's west in 2016 and 2017, which prompted a genocide case at the International Court of Justice. Both the NLD-led government at the time and the military denied the charges and have long claimed to be targeting terrorists.
In the cities, elite counter-insurgency troops involved in these atrocities have been deployed and seen armed on the streets alongside other security forces.
Since March 27, military fighter jets have screeched over the jungles and mountains of southeastern Karen state, launching airstrikes on villages and schools controlled by Myanmar's oldest rebel group, the Karen National Union (KNU), for the first time in 20 years, according to multiple humanitarian groups on the ground.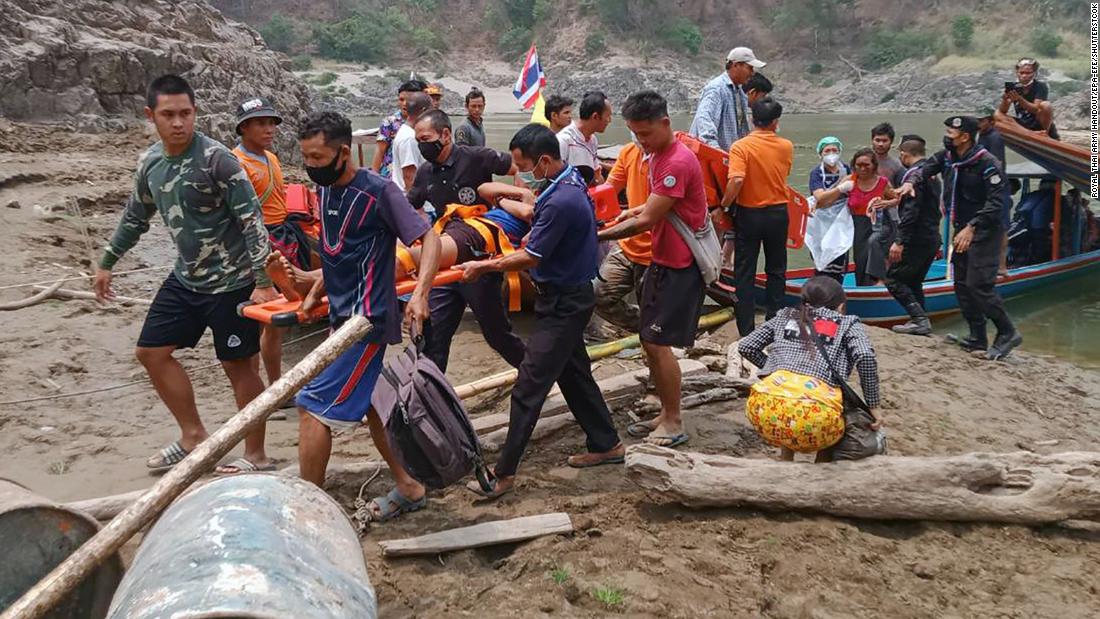 A handout photo made available by Royal Thai Army shows injured fleeing Karen villagers arriving after crossing at a Thai-Myanmar border in Mae Hong Son province, Thailand, on 30 March.
The Tatmadaw bombs have killed at least six civilians, including children, and sent 12,000 people running from their homes, humanitarian groups said. Some of those villagers fled over the Salween River into neighboring Thailand. The offensive came after a KNU brigade seized a military base in Mutraw district. In retaliation, Myanmar military ground troops have now advanced into the rebel territories "from all fronts," the KNU said. In the country's north, fighting has also increased since the coup between Kachin rebels called the Kachin Independence Army and the military, displacing hundreds of people, according to local media.
Both the KNU and RCSS are signatories of a 2015 Nationwide Ceasefire Agreement (NCA), signed by 10 ethnic armed organizations. The two groups have signaled the attacks means the uneasy ceasefire deal was now at risk.
"We have long foreseen a military offensive at the end of the dead-end NCA peace process," the KNU said. Its head of foreign affairs, Saw Taw Nee, said the agreement was "paralyzed."