The deadly exchange of fire between Palestinian militants in the Gaza Strip and the Israeli military has escalated significantly, with the UN fearing a "full-scale war".
More than 1,000 rockets have now been fired by Palestinian militants over 38 hours, Israel said, most at Tel Aviv.
Israel has carried out deadly air strikes, bringing down two tower blocks in Gaza on Tuesday.
Israeli Arabs have also staged violent protests in a number of Israeli towns.
The city of Lod, near Tel Aviv, has been put under a state of emergency.
UN Secretary-General António Guterres said he was "gravely concerned" by the ongoing violence.
Six Israelis have died and in Gaza at least 43 Palestinians, including 13 children, have been killed since Monday, the health ministry said.
The latest fatality was an Israeli citizen, who was killed when an anti-tank guided missile, fired from the northern Gaza Strip, struck a jeep on the border. Two other people were injured.
The fighting follows weeks of rising tension stoked by violent confrontations between Israeli police and Palestinian protesters at a site in Jerusalem that is holy to both Muslims and Jews.
Israel's military says this is the biggest exchange since 2014.
Of the 1,050 rockets and mortar shells that have now been fired from Gaza, 850 had landed in Israel or were intercepted by its Iron Dome air defence system, and 200 failed to clear the border and landed back in Gaza, the Israeli army said.
Video footage from the city showed rockets streaking through the night sky, some exploding as they were hit by Israeli interceptor missiles.
Loud booms and air-raid sirens were heard across targeted cities, which included Tel Aviv, Ashkelon, Modiin, and the southern city of Beersheba, as Palestinian militants tried to overwhelm missile defences.
Anna Ahronheim, the defence and security correspondent of the Jerusalem Post, told the BBC: "To hear hundreds of interceptions and even to hear rockets fall near us was horrifying."
The rocket fire escalated after the two residential tower blocks were brought down in Gaza. Israel said it was targeting rocket launch sites, high-rise buildings, homes and offices used by Hamas, the militant group that rules Gaza.
Hamas said it was incensed by the "the enemy's targeting of residential towers".
Residents had been warned to evacuate the buildings before the fighter jets attacked, however health officials said there were still civilians deaths.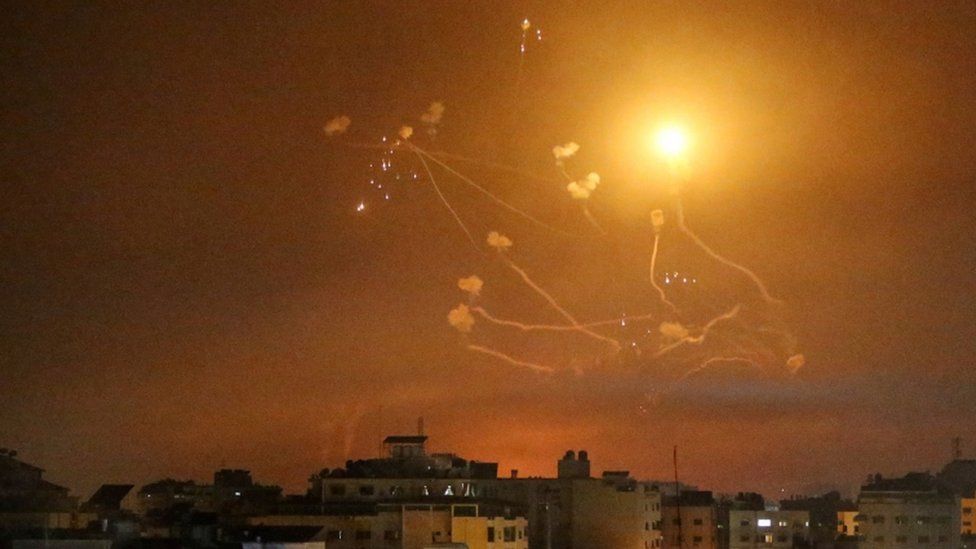 Fady Hanona, a journalist in Gaza City, tweeted a video he said showed explosion after explosion in Gaza on Wednesday morning.
"What is happening is unbelievable," he said. "What we experienced this morning was more war than what we lived during the last three wars."
The international community has urged both sides to end the escalation, amid concerns it could spiral out of control. The UN's Middle East peace envoy, Tor Wennesland, said the sides were "escalating towards a full-scale war".
Mr Guterres urged "a redoubling of efforts to restore calm".
Israeli Defence Minister Benny Gantz said the Israeli strikes were "just the beginning".
"Terror organisations have been hit hard and will continue to be hit because of their decision to hit Israel," he said. "We'll return peace and quiet, for the long term."
Hamas leader Ismail Haniyeh said in a televised address: "If [Israel] wants to escalate, we are ready for it, and if it wants to stop, we're also ready."
State of emergency
Protests by Israeli Arabs in Lod escalated to full-scale rioting, with protesters throwing rocks at police, who responded with stun grenades.
A 52-year-old father and his 16-year-old daughter reportedly died when a rocket hit their car, with a number of other people injured in clashes, Israeli newspaper Haaretz reported.
The violence caused Israeli Prime Minister Benjamin Netanyahu to declared a state of emergency in Lod on Tuesday night. It was the first time the government had used emergency powers over an Arab community since 1966, The Times of Israel said.
Mr Netanyahu, who went to the city to call for calm, said he would impose a curfew if necessary.
Israeli media reported that synagogues and several businesses had been set on fire, while Reuters news agency said there were reports a car driven by an Arab resident had been stoned.
"All of Israel should know, this is a complete loss of control," Lod Mayor Yair Revivo was quoted as saying by the Times of Israel. "Civil war has erupted in Lod."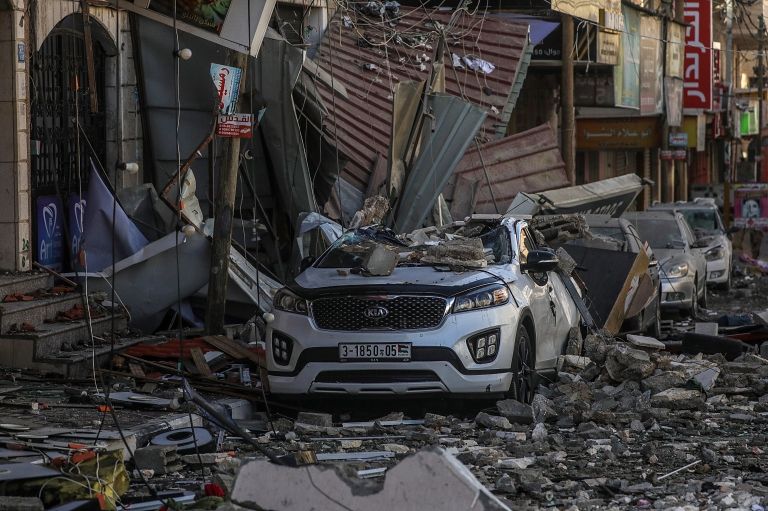 Ben Gurion Airport, Israel's main international hub and one of the country's busiest, briefly halted flights on Tuesday and an energy pipeline between the cities of Eilat and Ashkelon was hit.
There has also been unrest in other cities with a large Israeli Arab population, as well as in East Jerusalem and the West Bank.